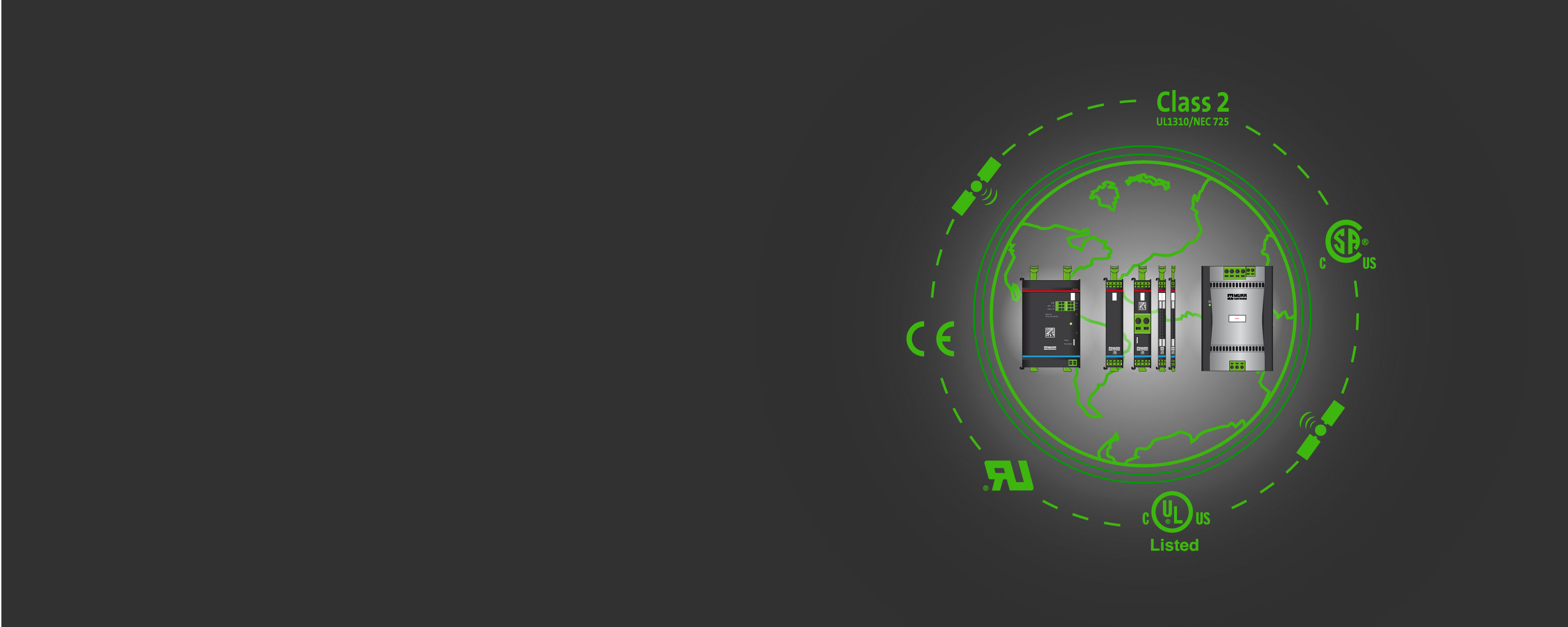 One Circuit Fits All
Multi-Norm Power Supplies
One control circuit solution for the whole world
The requirements for control circuits can vary greatly if machines and systems are designed to operate in different regions around the world. Companies that export a large number of machines to international markets have to create different concepts for control cabinet power supplies. Depending on the target market, they must...
Use different products
Have various wiring concepts and/or
Use different methods to safeguard the mains voltage
Be knowledgeable about a wide variety of different international standards and specifications.
How delivering to international markets make everyday installations difficult:
Some markets use the metric system, while others the imperial system; sometimes IEC standards are relevant, other times UL standards. Figuring these things out cost time and money! Different products have to be approved, tested for compatibility, engineered into the system and available in the warehouse. Everyone involved in installing control circuits must be familiar with the various norms and requirements. And the having the right parts available in the right markets is a logistical nightmare!
The Solution for the Challenge:
Multi-norm power supply concepts. One concept that can be used as a standard in all machines and systems worldwide – regardless of their location!
Murrelektronik's product portfolio has many solutions for multi-norm power supply concepts. Our products follow a uniform design and have the approvals and certifications that you need. They have been developed and tested to work perfectly together. Our solutions meet international standards so that your machine or system can be used anywhere in the world.
Advantages of a multi-norm power supply concept from Murrelektronik:
Reduce the number of different products needed
Employees only have to be familiar with one system instead of many
Reduce engineering time
NEC Class 2 circuits reduce approval time and control circuits to a minimum
In total: you can optimize material cost and installation time!
Small machines with low power consumption
Mico Pro® and the integrated 1-phase power supply: Mico Pro® modules with NEC Class 2 outputs protect circuits up to max. 100 VA. Everything that is connected to this circuit does not need UL approval due to the NEC Class 2 certification. Using Mico Pro® current monitoring system with integrated power supply reduces the amount of UL certifications needed.
Larger machines with increased power requirements
Combining a 3-phase Emparro 40A power supply with Mico Pro®: Mico Pro current monitoring modules protect I/O modules connected with an M12 power connection that are mounted on the machine.
Download the white paper and the EPLAN diagram
Just fill out the form and you will get access to the download area.