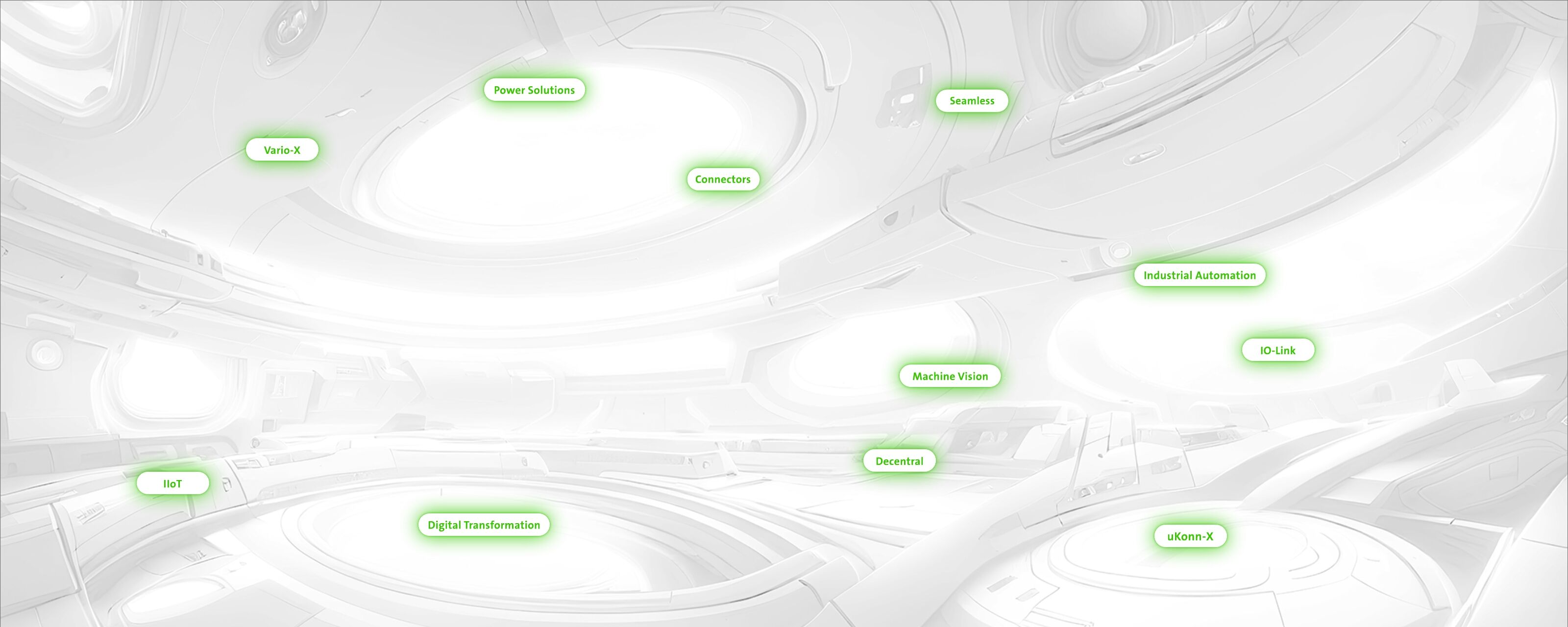 Visit us in Munich!
Experience the future of automation at automatica.
Networked production, digital integration - automation is in the midst of a transformation and that brings with it numerous questions. How do we chart a course that helps us become, or remain, fit for the future while ensuring innovation? How do we combine the old with the new, analog with digital? How do we create a seamless, powerful and future-proof topology? In short: how do we connect to the future now?
The answer is seamless decentralization. It is the first, decisive and easy-to-implement step toward digital transformation.
Decentralization must be planned for and implemented in the overall system. Both the hardware and the installation concept have to work hand in hand. They both must complement each other to form a holistic system. Murrelektronik is the only company in the marketplace that brings both expertise in electrical installation technology (including a systemic and seamless approach) and a coordinated product portfolio (from complete automation systems to power connectors: seamless and decentralized) together.
Numerous innovations
We are bringing a whole host of innovations to Munich. We'll be showing you a wide range of highly innovative solutions for a wide variety of industries.
Specifically, we would like to call attention to four specific topics:

The Vario-X automation system:
Flexible and scalable with maximum openness and performance on all levels and for all interfaces – with Vario-X you are ready for the future. It's designed for both current and future challenges and it makes the control cabinet completely unnecessary.

Installation solutions for industrial image processing:
We rely on a holistic concept - decentralized switches, distributors and injectors that are machine mountable and pluggable, along with corresponding pre-assembled cable and connector technology - to make your entry into industrial image processing as easy as possible. Minimum installation effort and maximum performance for both new and existing machines and systems. Come see our machine installation to see how everything works together.

MQ15 Power Connectors:
MQ15 connectors are easy to install thanks to their tool-free quick connection system. Their IP67 rating makes them suitable for harsh industrial environments while their compact design and high current transmission (up to 16A continuous load at a voltage of 600V AC) make them ideal for a wide range of applications including both asynchronous and three-phase motors.

A comprehensive IO-Link portfolio:
The new MVK Pro and IMPACT67 Pro fieldbus modules are IP67 rated, have eight multifunctional master ports, and L-coded M12 power ports. They are available for PROFINET, EtherNet/IP and EtherCAT or they can be fieldbus-independent via OPC UA, MQTT, JSON REST API - thanks to the integrated Standardized Master Interface (SMI). All in all, they reduce costs, increase productivity, , minimize installation and commissioning times, simplify service and maintenance and replace large, complexly wired control cabinets.
Get your free ticket now!
Meet us in Hall B6 | Booth 328 and get inspired. Be part of the exciting journey into the future of automation!