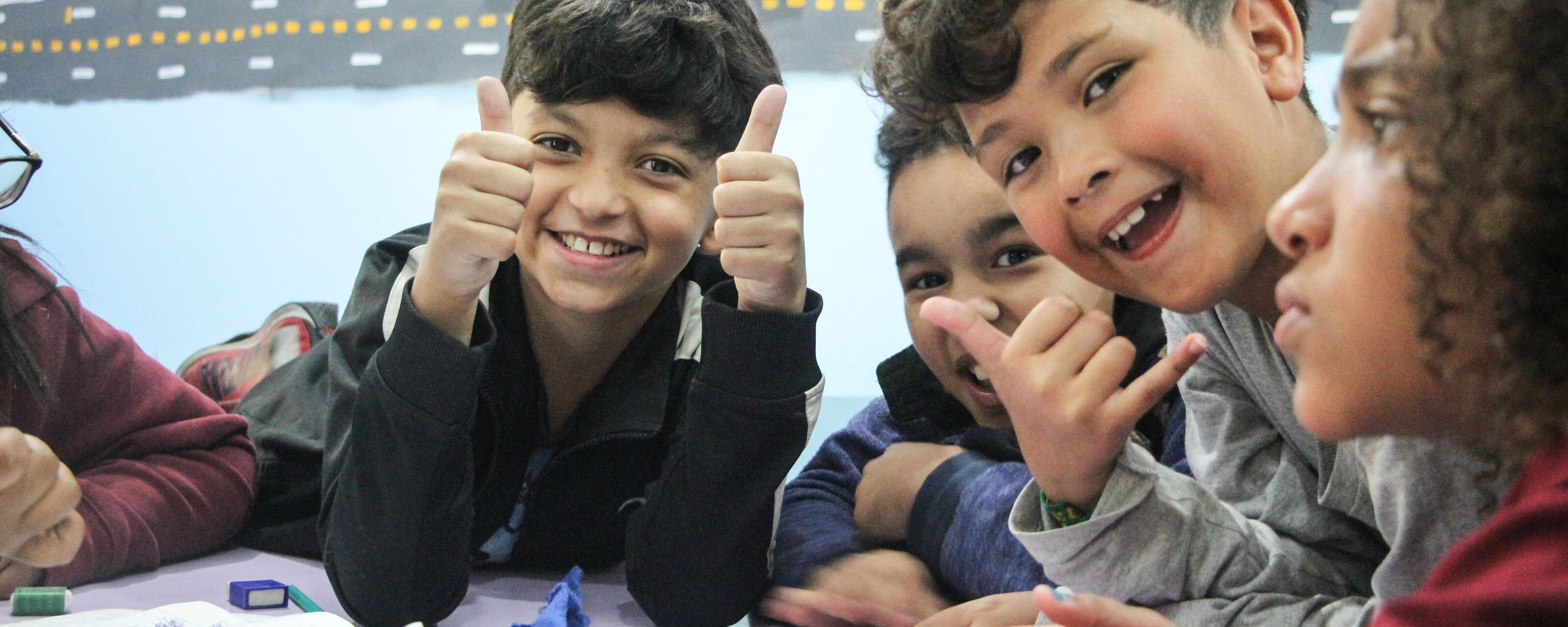 Do good together with us – for a better future!
Casa do Zezinho
Give a gift of happiness!
The most beautiful – and most important – thing in our world is the happiness of children. Because children are our future and a reflection our responsibility. Please help us to help children in the favelas of São Paulo. The district in the south of the city is called "Parque Santo Antônio" – but nothing here reminds us of a park as we know it. Huts line up next to huts, often more than ten people share a corrugated iron hut. Almost nobody has a job here. Three people are murdered every day in this slum alone. This is no place for a carefree childhood.
Luckily there is the Casa do Zezinho. The "House of Little Joseph" is a refuge for the children of the city. Here they get a warm meal every day, here they learn how to read, write and do mathematics. They go on excursions, do sports – and sometimes the children just come to enjoy a few carefree hours. Casa do Zezinho breaks the vicious circle of poverty, crime and drugs. An island of refuge for currently 1500 young people. But 2000 are on the waiting list. We cannot keep these children waiting. That's why we help.
Murrelektronik has supported the Casa do Zezinho for many years. Our claim "stay connected – stay in touch" takes on a new dimension and also means a special obligation for us. Therefore, we do not only help with donations – our local colleagues as well as members of the Murrelektronik family are personally involved. Franz Hafner established contact with the Casa do Zezinho in 1995 and, like his daughter Caroline Hafner-Pinnel, is in regular contact with the people around the Casa do Zezhino. They know the situation on site only too well and know that every hand and every smile is needed there.
The children and the house are close to our hearts. They can also rely on our commitment in the future. And if you help, we can achieve even more. Your help arrives directly – without deductions and above all where it really makes a difference.

Blog – news from Casa do Zezinho



Hand in hand with Murrelektronik

1994
Dagmar Garroux founds the Casa do Zezinho and brings seven children from the slums. The beginnings are small. But they give these young people the greatest thing: hope and a future.

1995
Foundation of a Murrelektronik subsidiary in Brazil. Franz Hafner is shocked by the social conditions in the country. He wants to help and by chance he hears of the Casa do Zezinho – the beginning of a partnership that is vital for survival.

1997
The small house of the first hour becomes a 3,200 m² building. An expression of the enormous demand on site, but also a sign of growing hope.

2000
Up to 1500 young people come to the house every day. They eat together, they play and learn – and for a few carefree hours they can just be children.

2004
The Casa do Zezinho celebrates its tenth anniversary. In the meantime it has become a pilot project for aid organizations around the globe.

2005
Murrelektronik also celebrates the tenth anniversary of the subsidiary in Brazil – together with many visitors and children.

2011
Franz Hafner and his daughter Caroline Hafner-Pinnel during one of the many personal visits to Casa do Zezinho. They know the situation on site only too well and know that every hand and smile is needed there.

2012
Se Cuida, Zezinho! This is the name of the new project of the house. "We care" focuses on health care for children and parents.

2017
Casa do Zezinho and Dagmar Garroux receive the "100 Best NGOs" award in Brazil from Época Magazine and the DOAR Institute.

2019
For 25 years now, children have been learning and laughing in the house of little Joseph. For them and for us a reason to celebrate.

2020
Murrelektronik in Brazil is also turning 25. We are happy about this success together with the children and trainers. And we will continue to be committed to the house in the future, where and how we can. Preferably together with you.

2021
The Casa do Zezinho turns 27! However, this year everything is different! Due to the ongoing Covid19 pandemic, a normal everyday life at the Casa do Zezinho is impossible to think of. For many weeks, the "House of Little Joseph" had to remain closed. Since February, a small part of the children is back – but the pandemic continues to dominate daily life!
Impressions






You have questions? We have answers!
Telefonical information
you will get by dialing the number:
+49 7191 47-0